For years AppSumo has been the go-to platform to buy lifetime deals on early stage SaaS companies by a lot of users. They created a Groupon for software and created a market of highly engaged buyers who enjoyed lifetime access to the promoted software for a one-off price.

SaaS founders who were on a low recurring revenue and needed a quick revenue boost found AppSumo super helpful. The deals that AppSumo listed drove a lot of excitement among their customers.

But a lot of things changed in the last few years.

Due to the rising competition in the lifetime deal space, AppSumo's sales were affected. Their response to this was they wanted to be the only platform where SaaS founders launched deals. So they started saying YES to every founder that wanted to launch with them. This diluted their vetting which used to be their core expertise.

This led to buyers having a sour experience more often on their purchases because AppSumo launched everything they got. It turned itself into a Walmart of software deals.

At any given point almost a thousand deals are active and listed on AppSumo. Founders who have created a SaaS out of a CodeCanyon script are listed on the platform.

AppSumo – for SaaS founders
As a SaaS founder you might have given lifetime deal promotion a thought at some point for sure. AppSumo has been the primary channel to launch lifetime deals by early stage SaaS companies since years.

AppSumo's earlier model – Launch 1 to 3 products at a time and then heavily promote those deals to the email list. The AppSumo community was sizeable and their customers turned into your fans because of the limited time deal commitment.

The AppSumo community had high energy. The promotion gave you a plenty of word out mouth. But that changed since the last couple years…

And at this point, I could give you 10 reasons why you should launch on AppSumo but frankly I can give you 21 reasons why you shouldn't.

The Game of Quanitity
Today's AppSumo doesn't list few and qualitative deals. They launch everything they find.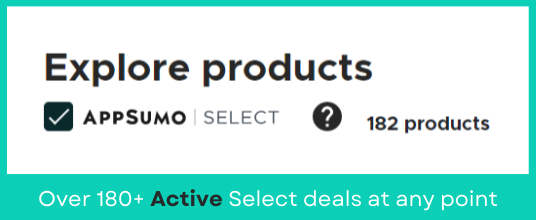 This started when AppSumo launched it's marketplace and started dumping hundreds of new lifetime deals every month. Suddenly their customers were not excited about the lifetime deals anymore.

Reason: People buy lifetime deals for the Fear of Missing Out (FOMO) on a crazy deal. When you continue making thousands of deals available at everyone's disposal, there is no fear of missing out. That's what happened with AppSumo, it turned into a Walmart of deals.

They left quality far behind and made quantity their main metric. So much that they have dozens of competing companies from the same category – all of them listed together. For example – the companies in the picture below are all AI writing software having a lifetime deal at the same time on the same platform.
If we were to dissect today's AppSumo in Pros and Cons, that might give a clearer picture.

Pros
✔️ Launching on AppSumo Select can give you an average of 4-5k customers from over a month of promotion

✔️ The cash influx is good. You can expect an average of $300k in sales

✔️ It will help stress test the product

✔️ It helps find the product market fit from customer feedback

Cons
❌ The promotion is all over the web and eats up your MRR completely

❌ Charges 70-80% commission on Select deals and you are left with peanuts in hand – an average of $60k in Gross Profit.

❌ Cannibalizes your sales leaving you to support thousands of customers forever

❌ Their affiliates create a lot of "lifetime deal" content around your brand and end up devaluing it

❌ The SERPs will show hundreds of links around lifetime deal when you type in your brand name

❌ AppSumo launches your competitors at the same time they launch you.

How much commission does AppSumo charge?

As a SaaS founder it is natural to be puzzled with AppSumo's terms, in the last few years, somewhere in the transition, AppSumo lost its soul. That's why we felt it's important to list some alternatives to AppSumo that people can check out.

Some of the AppSumo alternatives are:

(We mention the hidden gems on top of our list, to give them more exposure, over the already popular ones)

Prime Lifetime Deals is a platform that specializes in launching established SaaS companies with developed MRR. The community has the highest success rate on their lifetime deals. The community has launched deals like SpyFu, ContentStudio, BigMarker, Landbot, Crello, Integrately etc.

Pros
✔️ Strict rules for members that keeps the culture of the group respectful

✔️ Vetted Deals

✔️ High level of transparency

✔️ Good engagement

Cons
❌ Doesn't launch very often

Best known for
Prime is most famous for launching a lifetime deal on Spyfu

How much commission does Prime charge?

Stacksocial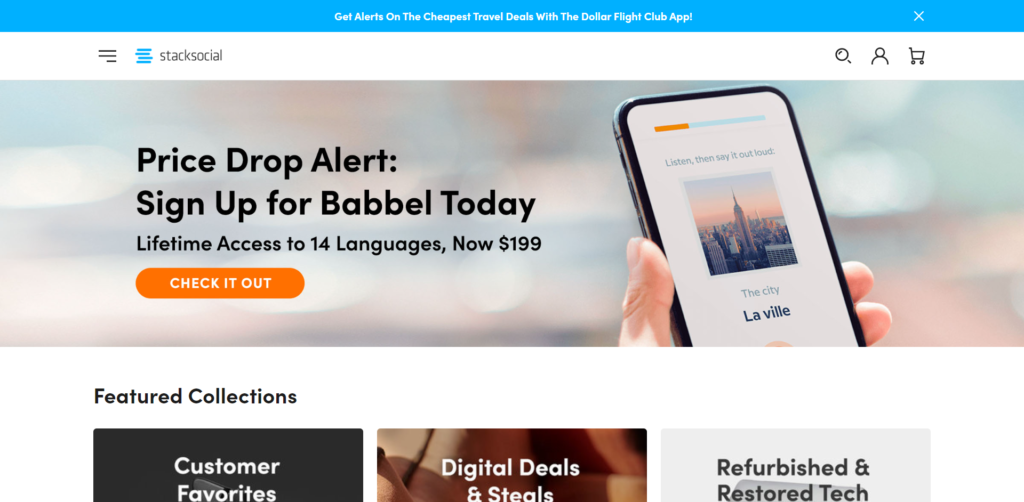 The oldest competitor of AppSumo is StackSocial. Whilst Stacksocial predominantly offers deals on electronic products and branded goods/services, it also has a dedicated section for digital products and services. Stacksocial also offers regular giveaways and freebies, and it offers discounts and lifetime deals for software products and services. Stacksocial also has many robust tools for skill-sharing.

Pros
✔️ Robust affiliate marketing program

✔️ The lifetime deals on StackSocial are really cheap

✔️ They have great VPN and Anti-virus deals

Cons
❌ The founders generally don't make good revenue with StackSocial

❌ They don't seem to get involved with the protection of deal terms

Best known for
Stacksocial is best known for deals on VPNs and Anti-virus solutions.

How much commission does StackSocial charge?

Pitchground
Pitchground probably has the most identical model to AppSumo. The platform aims at launching multiple SaaS companies and promoting them with ads and affiliates. Pitchground has grown really fast since their launch but is yet to be proven for their quality of deals.

Pros
✔️ The deals stays for a longer period

✔️ Good opportunity for affiliates to make passive income

✔️ Has a Facebook group to be in sync with other members

Cons
❌ Buyers typically complain about their refund policies

❌ The vetting is almost like AppSumo

Best known for
Pitchground is best known their aggressive promotion through ads on Google and Facebook. Their deals are popular among the affiliates who go out of the way to promote PitchGround's deals for the commissions.

How much commission does PitchGround charge?

SaaS Mantra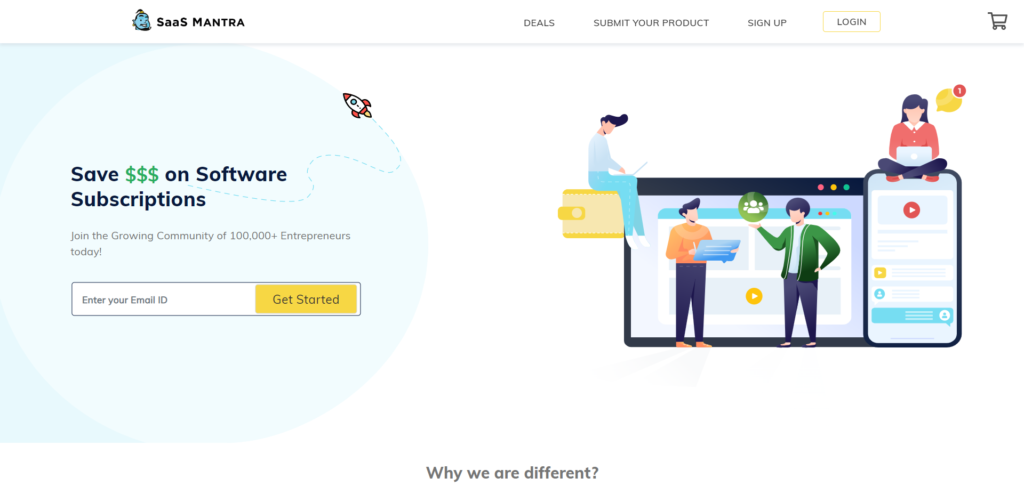 Saas Mantra is a platform created by one the most regular AppSumo customer who also happens to be a software enthusiast. The community has gained popularity for launching exclusive deals. Although it's a credible platform their deals have either been really good or really bad. Deals like Hyperise have been really good but the platform has also launched deals like FunnelBake and LeadCart who have hurt their reputation.

Pros
✔️ Reliable founder

✔️ Community culture is respectful

✔️ Not bombarded with deals

Cons
❌ Unlucky/bad deal vetting

❌ Not aggressive with promotions

Best known for
SaaS Mantra is best known for understanding the tech of their launches.

How much commission does SaasMantra charge?

Dealify
Dealify is an emerging lifetime deal platform that has been getting popularity among AppSumo customers. The platform is well designed and has a clean UI. They are yet to produce any significant exclusive deals like the other options in the list but they do have a good range of deals available on their platform.

Pros
✔️ They have a sizeable number of customers with them

✔️ Their lifetime deals are available for a longer period 

✔️ Reliable customer support

Cons
❌ Vetting of platforms is half-baked

❌ Not real protection with deal terms

Best known for
We have tested and liked the customer support from Dealify

How much commission does Dealify charge?

The best AppSumo alternative
Our take? Prime probably is the most reliable platform to buy lifetime deals if they improve the frequency. Pitchground is another great option as they have a good range of deals.