As a SaaS founder you might have given lifetime deal promotion a thought at some point for sure. AppSumo has been the primary channel to launch lifetime deals by early stage SaaS companies since years.

AppSumo's earlier model – Launch 1 to 3 products at a time and then heavily promote those deals to the email list. The AppSumo community was sizeable and their customers turned into your fans because of the limited time deal commitment.

The AppSumo community had high energy. The promotion gave you a plenty of word out mouth. But that changed since the last couple years…

And at this point, I could give you 10 reasons why you should launch on AppSumo but frankly I can give you 21 reasons why you shouldn't.

The Game of Quanitity
Today's AppSumo doesn't list few and qualitative deals. They launch everything they find.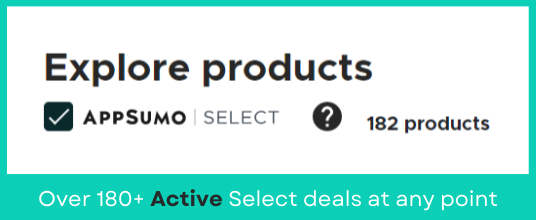 This started when AppSumo launched it's marketplace and started dumping hundreds of new lifetime deals every month. Suddenly their customers were not excited about the lifetime deals anymore.

Reason: People buy lifetime deals for the Fear of Missing Out (FOMO) on a crazy deal. When you continue making thousands of deals available at everyone's disposal, there is no fear of missing out. That's what happened with AppSumo, it turned into a Walmart of deals.

They left quality far behind and made quantity their main metric. So much that they have dozens of competing companies from the same category – all of them listed together. For example – the companies in the picture below are all AI writing software having a lifetime deal at the same time on the same platform.
If we were to dissect today's AppSumo in Pros and Cons, that might give a clearer picture.

Pros
✔️ Launching on AppSumo Select can give you an average of 4-5k customers from over a month of promotion

✔️ The cash influx is good. You can expect an average of $300k in sales

✔️ It will help stress test the product

✔️ It helps find the product market fit from customer feedback

Cons
❌ The promotion is all over the web and eats up your MRR completely

❌ Charges 70-80% commission on Select deals and you are left with peanuts in hand – an average of $60k in Gross Profit.

❌ Cannibalizes your sales leaving you to support thousands of customers forever

❌ Their affiliates create a lot of "lifetime deal" content around your brand and end up devaluing it

❌ The SERPs will show hundreds of links around lifetime deal when you type in your brand name

❌ AppSumo launches your competitors at the same time they launch you.

How much commission does AppSumo charge?

For these reasons we felt that founders should know about AppSumo alternatives that are better to launch with and created this well researched list.

Some of the AppSumo alternatives are:
Prime is a platform that specializes in launching lifetime deals on established SaaS companies. Their lifetime deals are structured and promoted in a way that only their closed community has the access to the lifetime deals thereby protecting the SaaS company from any potential risk of churn or brand devaluation. They have launched lifetime deals on companies like Landbot, MooSend, BigMarker, Integrately, Crello etc.

Pros
✔️ Their lifetime deals never affect your MRR and you never see any churn

✔️ Prime launches only 1 deal at a time and puts entire spotlight on your launch

✔️ Their launches are never indexed by Google and your brand doesn't get devalued

✔️ They actively create educational content around your brand to promote the deal

Cons
❌ The frequency of deals is low

❌ The refund is 30 days compared to AppSumo's 60 days

How much commission does Prime charge?

Pitchground
PitchGround specializes in working with early stage SaaS companies and aggressively promoting them through their affiliate network and ads. The platform has gained popularity in the last couple of years for being a marketplace that is very similar to AppSumo as they have a lot of deals listed at any given point as well.

Pros
✔️ The affiliate network is strong and they promote the product well

✔️ The deals have high energy and engagement

✔️ The competition for visibility is lesser than AppSumo

Cons
❌ Buyers typically complain about their refund policies. So their trust has been in question in the past

❌ The vetting of deals isn't exactly strong.

How much commission does PitchGround charge?

SaasMantra
SaasMantra started as the oldest community for AppSumo fans and is led by one of the most frequent AppSumo buyers. The community largely depends on organic sales and affiliate network. Their deals have either been either really successful or have failed miserably. Overall the community is reliable and the team behind it is authentic.

Pros
✔️ Pricing of the deal is affordable and aim at providing a lot of value

✔️ They are backed by an engaged Facebook community

✔️ They offer generous affiliate commissions to promote their deals

Cons
❌ After some of their partner companies shutting down suddenly, their vetting has been questionable

❌ Their sales is low which makes the competitors go to other alternatives

How much commission does SaasMantra charge?

Stacksocial
StackSocial has been around for ages along side AppSumo. They don't exactly specialize in SaaS deals. They list hundreds of deals on digital products and services. They are primarily known for VPN and Anti-virus deals. Their SaaS deals are typically priced under $49 and they run their deals for a longer period than usual. StackSocial is best known for launching smaller tools compared to bigger software platforms.

Pros
✔️ They have a really affordable price on the deals they launch

✔️ Has a unique target audience of techies and freelancers which is different from AppSumo's audience

✔️ They offer a mature infrastructure to sell the deal and have a polished checkout process.

Cons
❌ The founders generally don't make good revenue with StackSocial

❌ The deals don't have a lot of engagement and energy in general and the promotion feels passive.

How much commission does StackSocial charge?

Dealify
Dealify is an emerging lifetime deal platform that specializes in re-launching AppSumo deals. The platform is well designed and has a clean UI. They are yet to produce any significant exclusive deals like the other options in the list but they do have a good range of deals available on their platform.

Pros
✔️ They have a growing network of active affiliates

✔️ They let you promote the deals on their platform for a longer window

✔️ Flexible terms as they are an emerging platform

Cons
❌ The sales they generate is not comparable to the other options

❌ Their reach is limited.

How much commission does Dealify charge?

The best AppSumo alternative to launch a lifetime deal
Our take? As per our research if you are an early stage SaaS you should launch with PitchGround or SaasMantra. If you have a high recurring revenue or if you simply don't want your current customer to see the lifetime deal promotion you should launch with LTDF.

If you think we missed any other important platform let us know in the comments.