Dubsado is great, there's no denying it. With powerful invoicing, task management, reporting, and time management features, it undeniably becomes a great choice for freelancers, solopreneurs, and small businesses. However, there may be some aspects to your business that Dubsado can't enrich.

So, if you are looking for more accessible and robust platforms, here are 12 Dubsado alternatives you may pick from:

The Best Dubsado alternative:
(We mention the hidden gems on top of our list, to give them more exposure, over the already popular ones)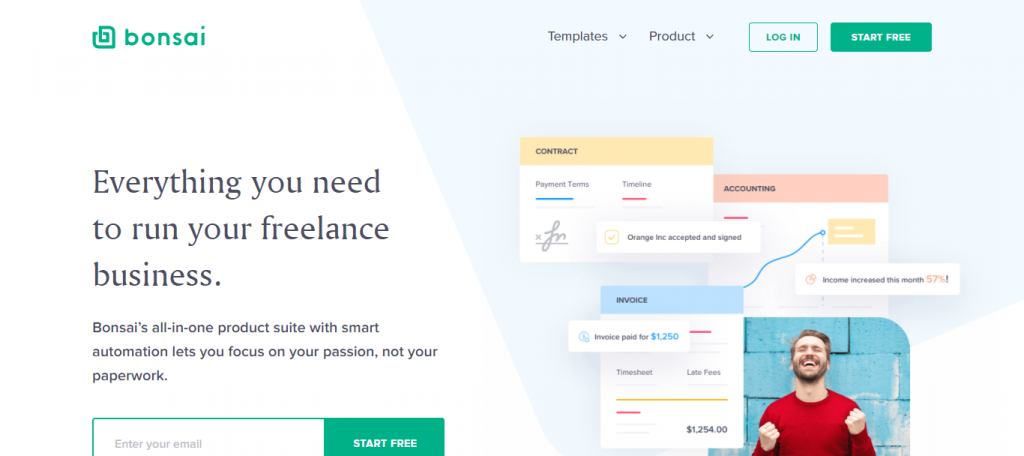 This suite of products has to be the best piece of software for freelancers and solopreneurs.

Bonsai can be best explained as a business management software for freelancers. We think it's better than even Dubsado, it's just relatively less known.

They also have an amazing blog where they share honest and useful resources, you might want to check it out if you are a freelancer.

Pricing
There is a free package, however, to make the most of this platform, you should choose from the following paid versions:

– The Starter plan is priced at $24/month.

– The Professional plan is priced at $39/month.

– The Business plan is priced at $79/month.

You could also go for the following top-ups to supplement your paid plans:

– Accounting and Tax Assistant for $10 per month

– Give access to partners for $9 per month. However, if you want to give limited access, you can mark them as collaborators for some projects for no additional cost.

Pros
✔️ Quote and Invoice Management

✔️ Over 180 currencies supported

✔️ Payment integration

✔️ Beautiful interface

✔️ Time tracking down to the last second

Cons
❌ Doesn't support many languages

❌ You can't track how much work is done

Best Known For
It's the only software that offers proposals, contracts, project management, CRM, time tracking, invoices, task management, accounting, forms and each bit is perfection.

⭐ Our Rating – 4.8/5
Forbes named Plutio as one of the best tools a freelancer could get. Rightly so, this software gets you everything you need to "get the work done". You can nearly automate 80% of your workflow, and that just gives you a rough idea of how much time can Plutio save for you on a daily basis.

Pricing
They have three paid models listed:

– The Solo Plan is priced at $19/month.

– The Studio Plan is priced at $39/month.

– The Agency Plan is priced at $99/month.

– The Enterprise Plan includes all add-ons and is custom priced based on the number of contributors.

Pros
✔️ Customizable to your heart's content

✔️ Branding done to suit your liking

✔️ Supports 25 languages

✔️ Easy collaborations

✔️ Daily mails for daily progress reports

Cons
❌ Great reports but lack vibrant representation

❌ Gets a little technical for newbies

Best Known For
Literally, everything might just be the best project management software! High on customization and the various perks it comes with, this Dubsado alternative may just become your go-to choice for life.

⭐ Our Rating – 4.6/5

Offer
– Get 10% discount on any of their plans. Use coupon code – Plu20io19
Flowlu offers comprehensive business management and CRM tools from its mobile and web-based app. Along with CRM and project management, Flowlu also offers task management, collaboration and mind-mapping tools for brainstorming sessions. Flowlu also offers financial management and online invoicing tools.

Pros
✔️ Handy invoicing tools with options to add recurring payments

✔️ Advanced task automation tools that can link emails to tasks and set up recurring tasks

✔️ Robust collaboration tools with smart notification features and options to collaborate on content

✔️ Versatile agile management tools with options to create custom project workflows and backlog reports

Cons
❌ More proposal/contract features could be added

❌ Many features are not available on the mobile app

Pricing
– Free plan is available with limitations.

– Team plan: $39 per month

– Business plan: $74 per month

– Professional plan: $149 per month

– Enterprise plan: $249 per month

Best known for
Flowlu is best known for its Agile project management features. Flowlu makes it easy to distribute tasks into manageable chunks using subtasks and checklists, and pending tasks can be easily prioritized using categories, tags and filters. Flowlu users can also customize workflows based on how their teams work and use agile management tools to generate accurate estimates. Flowlu can also generate burndown reports and Kanban boards to visualize progress against time. Flowlu also provides accurate time tracking and flexible notification tools to boost collaboration.

⭐ Our Rating – 4.7/5
Octoa mainly focuses on photo and video studios which is designed for creative professionals and freelancers, Octoa provides a project and task management platform that gives users the option to choose between multiple languages, currencies and tax options. Along with project management tools, Octoa also offers invoicing and scheduling tools, along with templates for proposals and contracts. Octoa has newly launched a feature Workflow & Automations to make the work-life of their customers easier.

Pros
✔️ Handy project management tools to track clients and tasks in project pipelines

✔️ Versatile contract and proposal templates

✔️ In-depth invoicing features that allow users to choose from multiple tax classes

✔️ Flexible and affordable pricing plans compared to peers

Cons
❌ Help center and knowledge base need to be improved

❌ Survey and questionnaire features need to be improved

Pricing
– Free trial plan is available for 14 days.

– Monthly plan: $22 per month, with unlimited clients and projects

BetterAlternative Exclusive Discount –

Best known for
Octoa is best known for its invoicing tools. With Octoa, users can choose from multiple currencies or tax classes whilst creating invoices. Octoa also provides versatile templates to create invoices with just a few clicks. Users can also track payment histories and invoice overviews through Octoa's dashboard.

⭐ Our Rating – 4.7/5
If you need an expense management software, look no further! One of the most budgeted offering in this list, Elorus does not disappoint on any aspect. Furthermore, you can amplify your payment management and reduce most of your bookkeeping stress.

Pricing
They have four plans you can select from:

– There is a Free Plan, but it only gives you 5 invoices a month.

– The Starter Plan is priced at $9 per month.

– The Standard Plan is priced at $19 per month.

– The Premium Plan offers unlimited access to invoicing at just $39 per month.

– Extra user add-on available at $6.

Pros
✔️ Highly customizable invoice templates

✔️ Demographic sales monitoring

✔️ Precisely maps non-billable hours

✔️ Seen status for invoices and requests

✔️ Helps you keep your clients in the loop on your dashboard

Cons
❌ Only 7 languages

❌ Improvement on reports needed

Best Known For
Elorus helps you configure your team members and track every hour of their work. It will also help you automate most things you dread wasting your time on.

⭐ Our Rating – 4.5/5

HoneyBook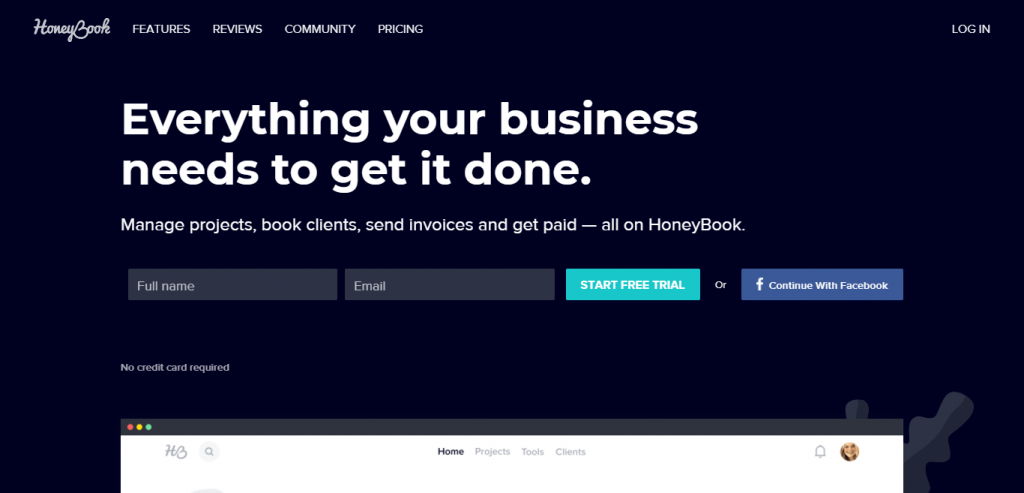 One of the best fits for creative individuals, HoneyBook comes with robust features needed to generate beautiful proposals, invoices, and contracts. This beautiful product is not just a pretty face, the tech depth is amazing and the platform is super stable to use, stable enough to move your business without any worries. With an in-built time tracking capability as well, this is your all-in-one toolkit.

Pricing
No free plan here!

– Their monthly paid plan starts at $39.

Pros
✔️ So many integrations!

✔️ Contract, price sheet, invoice – keeps them all pretty and together!

✔️ Bookkeeping at par with accounting software

✔️ Intuitive reminders for approaching payment dates

✔️ Personalized to the maximum level

Cons
❌ No free plans!

❌ Difficult to customize project stages

❌ Lacks on the time tracking front

Best known For
If you are looking for a software to end your bookkeeping hassles, this is the one for you. Equipped with powerful accounting and quote management features, HoneyBook also generates strikingly pretty bills.

⭐ Our Rating – 4.7/5

17Hats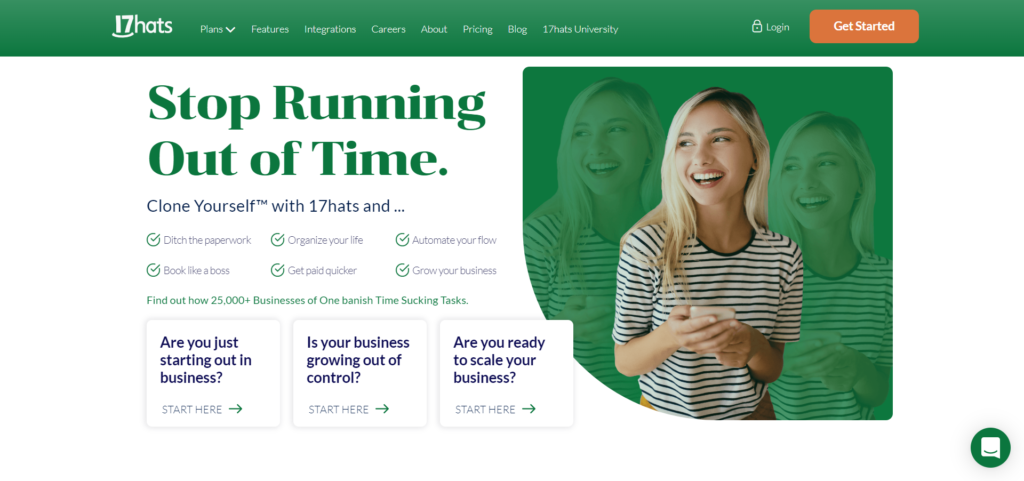 If a freelancer wants a fully equipped CRM, 17Hats might just be it for them!

Although 17Hats prides itself upon being the all-in-one suite, there are certain features that you will find in the pros, which even the most advanced CRMs fail to provide.

So, Jack of all trades, and master of some, that's 17Hats!

Pricing
They do not have a free plan, but they give a 30-days money-back guarantee if you're not happy with the product.

Their paid models are diversified as per the longevity of their usage.

– Level One: $15/month.

– Level Two: $30/month.

– Level Three: $60/month.

Pros
✔️ All-in-one product for a freelancer

✔️ Automatable invoices

✔️ Single-click proposals

✔️ Lead intake forms and bulk mails

✔️ Quickbooks integration

Cons
❌ Bookkeeping not so tight!

❌ The invoice templates need more variety

Best Known For
Project management and lead diversification are the major strengths it plays on. If you need to manage your communication within your team and outside as well, you should try 17Hats.

⭐ Our Rating – 4.5/5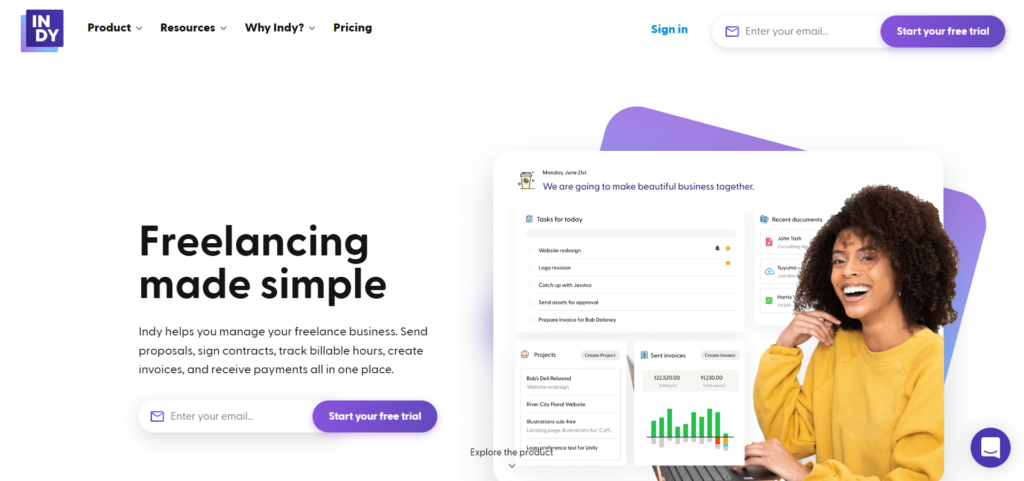 Indy is an all-in-one project management, contract, invoice, proposal, task, chat, and file sharing platform that will level up your freelancing career. With Indy, you can manage your entire workflow in one platform for one price. Create your profile for free to connect to other freelancers today.

Pros
✔️ Versatile proposal and contract templates that can be customized swiftly

✔️ Handy invoicing features that are directly linked to time-tracker tools

✔️ Robust tools to launch forms that can be embedded or shared easily, with advanced capturing tools

✔️ Centralized chatting tools that allow users to add multiple clients into a conversation

Cons
❌ Calendar features are not fully developed as of yet

❌ Automation tools could be improved

Pricing
– Free trial plan is available

– Pro-Bundle plan- $5.99 per month

Best known for
Indy is best for independent freelancers looking to take the next step in their freelance career. Indy makes it easy to manage your entire workflow in one place.

⭐ Our Rating – 4.7/5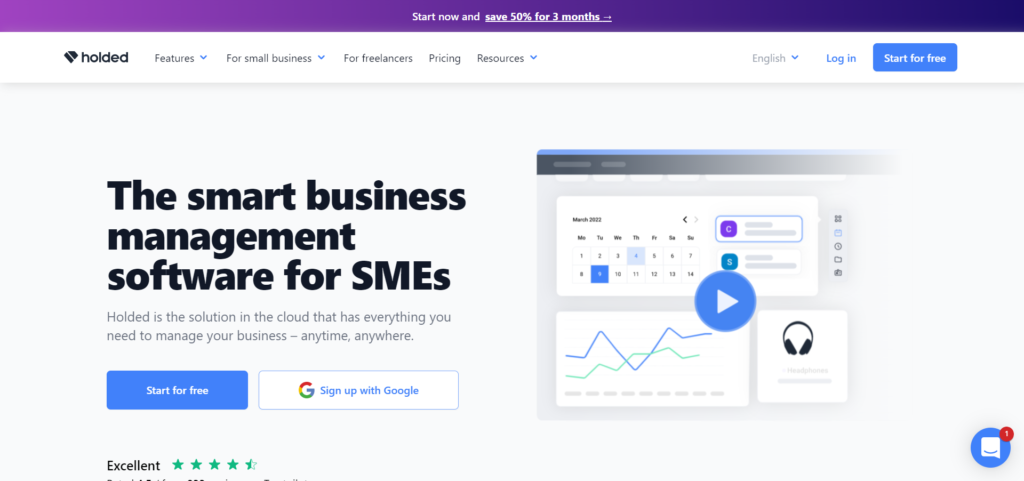 Holded offers cloud-based CRM and invoicing solutions with affordable pricing plans. Holded also has many scheduling features and it offers tools for project and human-resource (HR) management. Holded also offers many tools to manage payrolls and inventory. Holded is available through a web-based and a mobile platform.

Pros
✔️ Advanced online accounting tools with precise tracking and bank reconciliation features

✔️ Handy HR tools to manage payrolls and contracts

✔️ Robust inventory management features that allow users to connect to various stores and add customizable product details

✔️ Versatile CRM tools that allow users to visualize sales pipelines and set deal-level probabilities

Cons
❌ More agile management tools could be added

❌ Collaboration tools could be improved

Pricing
– Free trial plan is available

– Basic plan: $30 per month

– Standard plan: $62 per month

– Advanced plan: $105 per month

– Premium plan: $211 per month

– Freelance Plus plan: $146per month

– Customised pricing plans available for users who wish to purchase add-ons

Best known for
Holded is best known for its HR management features. When it comes to payrolls, Holded users can easily check the status of each payroll and post payrolls confidently. Holded can also help with approvals or rejections of vacation times, and it can generate notifications when team members are absent. Holded also provides calendar views to give an overview of staff allocations. Employee contracts are also easy to manage with Holded, as all contracts are stored within cloud servers and custom profiles can be created with custom elements of each agreement. Holded also offers time-tracking tools to manage work schedules, log workdays and monitor employee records.

⭐ Our Rating – 4.6/5

Bloom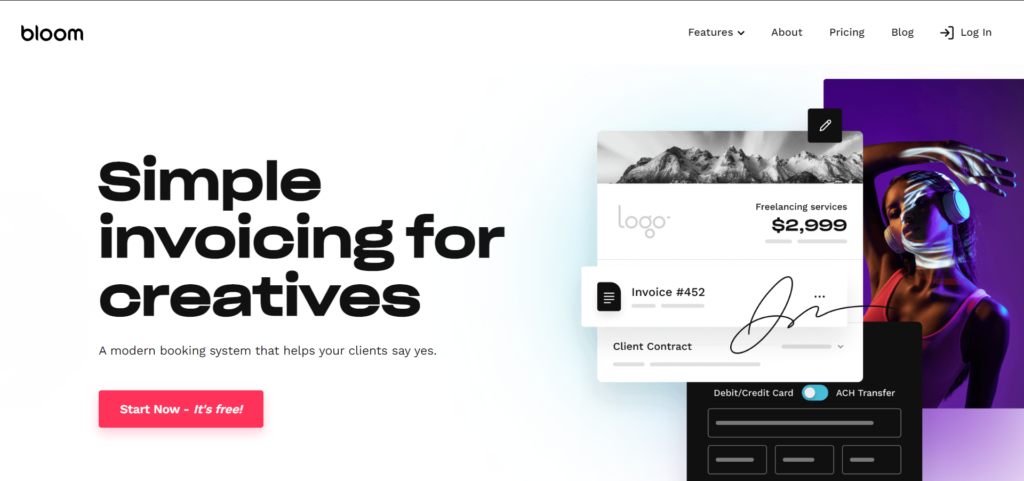 They made it especially for the creative folks, and you'll see it from the minute you land on their website.

Bloom knows you need to get the real work done, so it will help you get done with the non-essential beautifully.

Pricing
You would get three subscriptions to choose from:

– Their Starter plan is free.

– Their Standard Plan is priced at $49 per month.

– Their Studio Plan is priced at $89 per month.

They offer a 60-day money-back guarantee shall you find the product non-satisfactory, and you also get two months of free access when you sign up for yearly models.

Pros
✔️ Brings order to your work by keeping tasks on the top and projects on the left

✔️ Supports direct payments in over 130 currencies

✔️ Good-looking forms

✔️ Bloom calendar for appointment management

✔️ Helpful task automation

Cons
❌ No android app!

❌ They have a web builder, but it lags.

❌ The chat features could be improved further.

Best Known For
There is beauty sprinkled all over this creative business management software. Not to forget, they help you organize communications, projects, workflows, and more effortlessly. You will get good-looking forms, questionnaires, invoices, proposals, and contracts.

⭐ Our Rating – 4.6/5
Specialising in lead generation, Betterlance offers CRM and sales tools for businesses of all sizes. Betterlance provides notification and segmentation tools as well for its clients. Betterlance also offers communication features that can be automated. Betterlance is available through a web-based platform.

Pros
✔️ Advanced lead generation features with guaranteed new leads every month

✔️ Versatile email templates and sending tools to reach out to new leads easily

✔️ Handy notification tools to send reminders to potential leads and clients

✔️ Flexible pricing plans that are suitable for freelancers as well as large businesses

Cons
❌ More accounting and invoicing features need to be added

❌ Task management features and boards need to be improved

Pricing
– Free trial plan available

– Occasional plan- $19 per month

– Essential plan- $79 per month

– Accelerate plan- $199 per month

Best known for
Betterlance is best known as a lead generation specialist. Betterlance's sales experts guarantee leads with every plan, even if it's a free trial plan. Betterlance's leads are high-quality, and they fit well into customer niches. Betterlance also connects generated leads to its CRM platform to convert them into paying customers and generate automated follow-up reminders. Betterlance also offers a unique sales calculator that allows users to estimate the incremental revenue that can be generated from new leads.

⭐ Our Rating – 4.3/5
Streamtime offers project management and CRM tools with an extensive knowledge base that gives users many opportunities to boost their sales. Along with CRM tools, Streamtime also has many tools for task management, time tracking and scheduling. Streamtime also offers tools to generate invoices and estimates. Streamtime is available through a web-based platform and an iOS app.

Pros
✔️ Handy scheduling tools that directly sync with job plans and to-do lists

✔️ Robust drag-and-drop time-tracking tools that can be adapted to changing schedules easily

✔️ Versatile invoicing tools that give users the flexibility to forecast cash flows

✔️ Simplified task management tools with dashboards to get quick overviews of tasks and team members

Cons
❌ More features related to proposals and contracts need to be added

❌ Android version of mobile app is not available

Pricing
– Free trial plan available

– Customised pricing plans are provided based on features that are required

– Pay-as-you-go plan- $40 per user per month

Best known for
Streamtime is best known for its simplified task management and job planning tools. With streamtime, users can create tasks with 3 simple questions: 'What's the job called?', 'Who's the client?' and 'What're their contact details?'. After creating jobs, users can set dates for projects and tasks, add team members, add the estimated amount of hours required to complete the task. Streamtime can also add estimates and quotes to tasks based on individual or client rates. Streamtime's task management features are loaded with in-built expense tracking and costing tools, along with features to generate burn-up graphs and past invoices.

⭐ Our Rating – 4.3/5

The best Dubsado alternative
These were our top 12 Dubsado alternatives, which we feel work best for freelancers and solopreneurs. Let us know in the comments what you would like to start with.