Dubsado is great, there's no denying it. With powerful invoicing, task management, reporting, and time management features, it undeniably becomes a great choice for freelancers, solopreneurs, and small businesses. However, there may be some aspects to your business that Dubsado can't enrich.

So, if you are looking for more accessible and robust platforms, here are 7 Dubsado alternatives you may pick from:
(We mention the hidden gems 💎 on top of our list, to give them more exposure, over the already popular ones)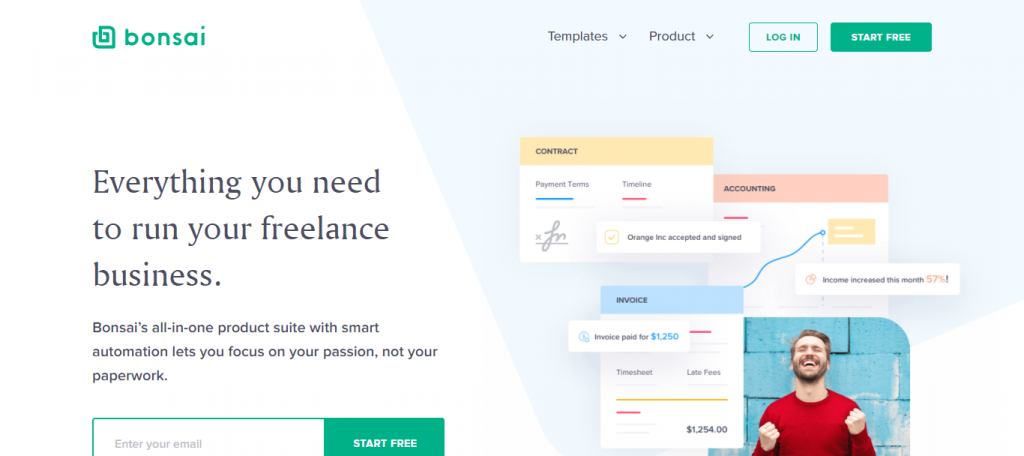 This suite of products has to be the best piece of software for freelancers and solopreneurs.

Bonsai can be best explained as a business management software for freelancers. We think it's better than even Dubsado, it's just relatively less known.

They also have an amazing blog where they share honest and useful resources, you might want to check it out if you are a freelancer.

Pricing
There is a free package, however, to make the most of this platform, you should choose from the following paid versions:

💰 The Workflow plan is priced at $19 per user per month.

💰 The Workflow Plus plan is priced at $29 per user per month.

You could also go for the following top-ups to supplement your paid plans:

💰 Accounting and Tax Assistant for $10 per month

Give access to partners for $9 per month. However, if you want to give limited access, you can mark them as collaborators for some projects for no additional cost.

Pros
✔️ Quote and Invoice Management

✔️ Over 180 currencies supported

✔️ Payment integration

✔️ Beautiful interface

✔️ Time tracking down to the last second

Cons
❌ Doesn't support many languages

❌ You can't track how much work is done

Best Known For
It's the only software that offers proposals, contracts, project management, CRM, time tracking, invoices, task management, accounting, forms and each bit is perfection.

⭐ Our Rating – 4.8/5
Forbes named Plutio as one of the best tools a freelancer could get. Rightly so, this software gets you everything you need to "get the work done". You can nearly automate 80% of your workflow, and that just gives you a rough idea of how much time can Plutio save for you on a daily basis.

Pricing
They have three paid models listed:

💰 The Solo Plan is priced at $15.

💰 The Studio Plan is priced at $20.

💰 The Team Plan is priced at $30.

💰 You can add "The White Label Plan" for $9 per month if you would like to remove Plutio's watermark.

Pros
✔️ Customizable till your heart's content

✔️ Branding done to suit your liking

✔️ Supports 25 languages

✔️ Easy collaborations

✔️ Daily mails for daily progress reports

Cons
❌ Great reports but lack vibrant representation

❌ Gets a little technical for newbies

Best Known For
Literally everything, might just be the best project management software! High on customization and the various perks it comes with, this Dubsado alternative may just become your go-to choice for life.

⭐ Our Rating – 4.6/5

Offer
🤑 Get 10% discount on any of their plans. Use coupon code – Plu20io19
If you need an expense management software, look no further! One of the most budgeted offering in this list, Elorus does not disappoint on any aspect. Furthermore, you can amplify your payment management and reduce most of your bookkeeping stress.

Pricing
They have four plans you can select from:

💰 There is a Free Plan, but it only gives you 5 invoices a month.

💰 The Starter Plan is priced at $7 per month.

💰 The Standard Plan is priced at $15 per month.

💰 The Premium Plan offers unlimited access to invoicing at just $30 per month.

Pros
✔️ Highly customizable invoice templates

✔️ Demographic sales monitoring

✔️ Precisely maps non-billable hours

✔️ Seen status for invoices and requests

✔️ Helps you keep your clients in the loop on your dashboard

Cons
❌ Only 7 languages

❌ Improvement on reports needed

Best Known For
Elorus helps you configure your team members and track every hour of their work. It will also help you automate most things you dread wasting your time on.

⭐ Our Rating – 4.5/5


🥇 TOP PERFORMERS

4. HoneyBook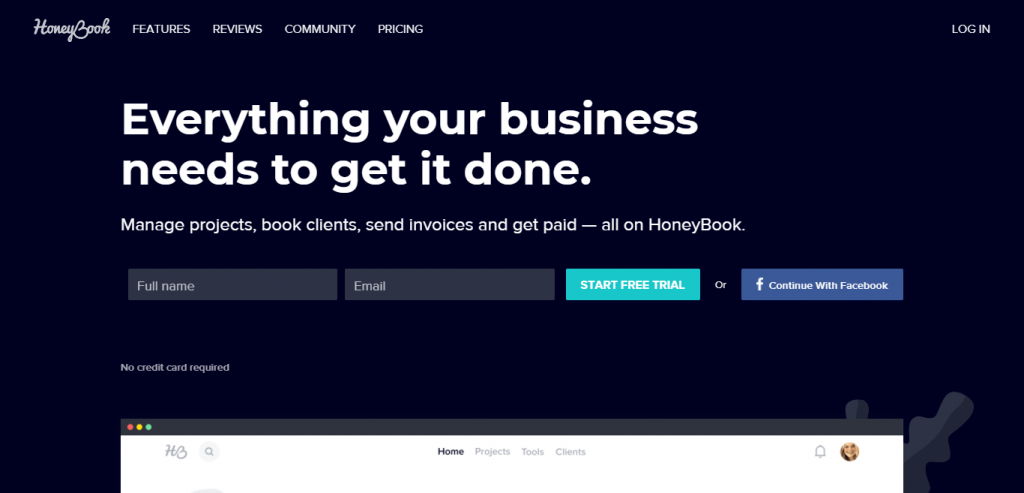 One of the best fits for creative individuals, HoneyBook comes with robust features needed to generate beautiful proposals, invoices, and contracts. This beautiful product is not just a pretty face, the tech depth is amazing and the platform is super stable to use, stable enough to move your business without any worries. With an in-built time tracking capability as well, this is your all-in-one toolkit.

Pricing
No free plan here!

💰 Their monthly paid plan starts at $40.

Pros
✔️ So many integrations!

✔️ Contract, price sheet, invoice – keeps them all pretty and together!

✔️ Bookkeeping at par with accounting software

✔️ Intuitive reminders for approaching payment dates

✔️ Personalized to the maximum level

Cons
❌ No free plans!

❌ Difficult to customize project stages

❌ Lacks on the time tracking front

Best known For
If you are looking for a software to end your bookkeeping hassles, this is the one for you. Equipped with powerful accounting and quote management features, HoneyBook also generates strikingly pretty bills.

⭐ Our Rating – 4.7/5

5. Bloom
They made it especially for the creative folks, and you'll see it from the minute you land on their website.

Bloom knows you need to get the real work done, so it will help you get done with the non-essential beautifully.

Pricing
You would get three paid subscriptions to choose from:

💰 Their Starter Plan is priced at $14 per month.

💰 Their Part-time Plan is priced at $35 per month.

💰 Their Full-time Plan is priced at $ 59 per month.

They offer a 60-day money-back guarantee shall you find the product non-satisfactory, and you also get two months of free access when you sign up for yearly models.

Pros
✔️ Brings order to your work by keeping tasks on the top and projects on the left

✔️ Supports direct payments in over 130 currencies

✔️ Good-looking forms

✔️ Bloom calendar for appointment management

✔️ Helpful task automation

Cons
❌ No android app!

❌ They have a web builder, but it lags.

❌ The chat features could be improved further.

Best Known For
There is beauty sprinkled all over this creative business management software. Not to forget, they help you organize communications, projects, workflows, and more effortlessly. You will get good-looking forms, questionnaires, invoices, proposals, and contracts.

⭐ Our Rating – 4.6/5

6. 17Hats
If a freelancer wants a fully equipped CRM, 17Hats might just be it for them!

Although 17Hats prides itself upon being the all-in-one suite, there are certain features that you will find in the pros, which even the most advanced CRMs fail to provide.

So, Jack of all trades, and master of some, that's 17Hats!

Pricing
They do not have a free plan, but they give 30-days money-back guarantee if you're not happy with the product.

Their paid models are diversified as per the longevity of their usage.

💰 The monthly plan starts at $45.

💰 The annual plan starts at $295.

💰 The two-yearly pan starts at $395.

Pros
✔️ All-in-one product for a freelancer

✔️ Automatable invoices

✔️ Single-click proposals

✔️ Lead intake forms and bulk mails

✔️ Quickbooks integration

Cons
❌ Bookkeeping not so tight!

❌ The invoice templates need more variety

Best Known For
Project management and lead diversification are the major strengths it plays on. If you need to manage your communication within your team and outside as well, you should try 17Hats.

⭐ Our Rating – 4.5/5


🌟 RISING STARS

7. GetBallPark
As the name suggests, this software deals with figures primarily. Whether it is calculating, sending, or following on your invoices, GetBallPark does it all for you. However, the software claims to be more than just invoicing as they pack in a lot of helpful project control features too.

Pricing
There are no free plans or multiple pricing schemes.

💰 GetBallPark starts at $19 per month per user.

💰 However, you will have to pay an additional $9 per month for every user you add.

Pros
✔️ Stripe, PayPal integration

✔️ Track billable hours, expanse, and non-billable hours get filtered out intuitively

✔️ Automate workflow

✔️ Easy schedule manager

✔️ Assign tasks and monitor

Cons
❌ Doesn't have many collaborative features needed for solopreneurs who are looking to grow

❌ Lacks templates

Best Known For
Computing stronger than other entries on the list, you may never have to do the math for your bills with this software by your side. So, if you deal with a large number of clients or hectic formulas, GetBallPark is the best alternative to Dubsado for you!

⭐ Our Rating – 4.3/5

Conclusion
These were our top 7 Dubsado alternatives, which we feel work best for freelancers and solopreneurs. Let us know in the comments what you would like to start with.