Dear Readers,

Firstly, we would like to thank you for your continued readership and support. In this article, we would like to discuss something unique and futuristic that may be the norm in a few years.

Recently, there has been an advent of software programs that can create synthetic videos, where a person in an existing video is replaced with someone else's likeness. These videos are popularly known as "Deepfake" videos, and whilst most of these videos are being used in harmful ways, this technology can also be used by businesses to boost productivity and efficiency.

This is where Synthesia comes into play. Synthesia uses advanced algorithms to create scalable synthetic videos that can be used for marketing and educational purposes. Synthesia has various in-depth avatars, and they have features that can be used to build custom avatars as well. Along with tools to generate synthetic speech, Synthesia also has features that can be used to add real voices to videos. Synthesia is available in over 50 languages and can convert written text into speech as well. Customized backgrounds and music can also be incorporated into videos, and Powerpoint can also be converted into videos using Synthesia.

Indeed, Synthesia's platform offers many unique solutions for users who need to create scalable videos for their businesses. However, video-editing issues and a lack of sorting features can make the platform tedious for many users. Luckily, there are many alternatives that you can consider in case Synthesia is not suitable for your needs.

Here are the top alternatives to Synthesia that you should consider for your business.

The Best Synthesia Alternatives:
(We mention the hidden gems on top of our list, to give them more exposure, over the already popular ones)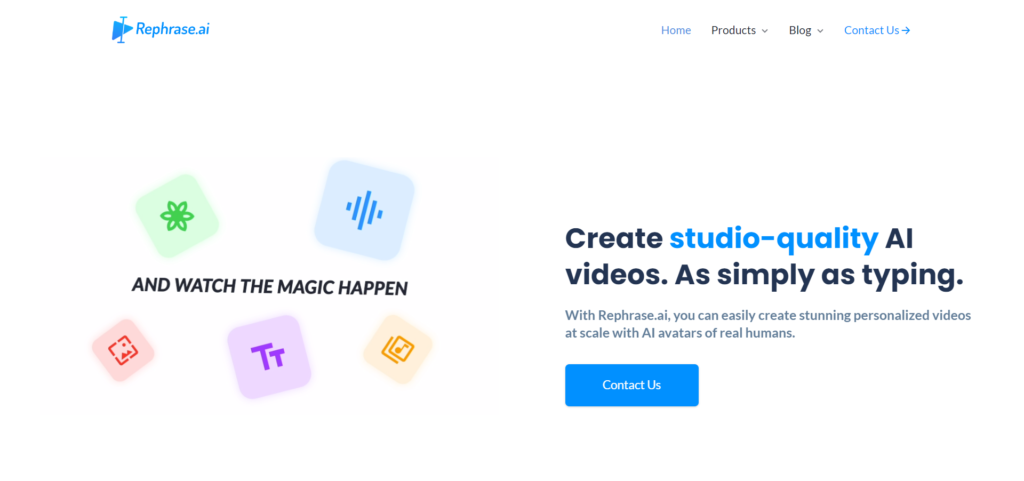 Rephrase.ai offers advanced synthetic-video software that uses AI to create studio-quality videos. Rephrase.ai offers API tools, along with text-to-speech features. Rephrase.ai also allows users to add custom actors, and users are given access to an in-depth editing suite. Rephrase.ai can be used to produce internal training videos, educational content, and sales pitches. Rephrase.ai offers a studio suite for large businesses and personalized plans for small businesses and freelancers.

Pros
✔️ Advanced API tools that can be used to create scalable content

✔️ Handy integration options that can be connected to popular sales tools

✔️ Versatile landing page tools that allow users to embed videos into sales pages

✔️ Robust text-to-speech features, that can be accessed through the rephrase panel

Cons
❌ Multilingual speech options are limited for videos

❌ Knowledge base and help center needs to be improved

Pricing
– Studio starter plan: $25 for 10 credits per month

– Personalized starter plan: $100 for 10 campaigns and 300 personalized credits per month

– Expert personalized plan: $500 for 50 campaigns and 2000 personalized credits per month

– Customized pricing plans available for enterprise users

Best known for
Rephrase.ai is best known for its API tools. Rephrase.ai's API can programmatically add videos into customer journeys or sales campaigns. Through Rephrase.ai's API features, bulk videos can be added as seamlessly as per the end-user convenience. Rephrase.ai's API tools are perfect for language learning videos, bill explainers, and FAQ pages.

⭐ Our Rating – 4.5/5
Yepic offers convenient 'text2video' technology that lets users create videos without any actors, cameras, or studios. Yepic.ai users can customize video backgrounds, avatars, and voices. Yepic also offers API tools for mass video campaigns. Yepic videos can be added to chatbots and can be used for prospecting and educational purposes. Yepic also has many collaboration tools and it comes with several options to build landing pages.

Pros
✔️ Ample customization options for avatars, backgrounds, and voices

✔️ Advanced collaboration tools for premium users

✔️ Unique tools that allow users to control avatar facial expressions using emojis

✔️ Versatile multi-lingual features and translation options

Cons
❌ Many features are still in the beta-testing phase

❌ More features should be added that allows users to import multiple clips and PowerPoint slides into a video

Pricing
– Free trial plan is available

– Standard plan: $36 per month

– Premium plan: $362 per month

– Customized pricing plans are available for users looking for optional extras

Best known for
Yepic.ai is best known for its collaboration tools. With Yepic.ai, users can easily manage team members and assign permissions for video editing. Yepic also makes it easy to share videos and collect feedback from team members. Yepic users can also create team templates to streamline sales campaigns and other complex tasks.

⭐ Our Rating – 4.4/5

The best Synthesia alternative
Did you like the list? Have we missed something important? Let us know in the comments.