Teachable along with Udemy practically began the online coaching industry and arrived much before comprehensive solutions like sales funnel builders gained popularity.

To this date, most online coaches pick Teachable to sell their courses. But the e-learning industry has changed and most SaaS companies have adapted to that change and have gotten creative with their offering.

Some work with an easier interface, some provide memberships and some let you sell digital products. The e-learning industry has seen some new interesting Teachable alternatives and in this blog we are featuring them.

The Best Teachable Alternatives:
(We mention the hidden gems on top of our list, to give them more exposure, over the already popular ones)
An all in one, zero-code platform that aids the creation, selling and marketing of online courses. The tool has an intuitive and informational interface with dedicated layouts. All of this adds to the creation of compelling and engaging course content without much pain.

It is one of the most complete e-learning solutions.

Features
– Tools to craft course-specific modules

– Build school websites

– Drip feed for flexible pathways

– Customizable layouts with interactive videos

– Course completion certificates

– Quizzes and assignments

Pricing
– Basic: $29/month

– Pro: $99/month

– Premier: $299/month

– Custom plan for high volume and corporates

Pros
✔️ Built-in templates for faster course creation

✔️ Lead generation support

✔️ Themes and font customization

✔️ Advanced analytics with progress tracking

✔️ Upsells and coupons

✔️ Mobile compatibility

Cons
❌ The design can make the software feel a little overstuffed for some

❌ Limited templates restrict customizations

⭐ Our Rating – 4.7/5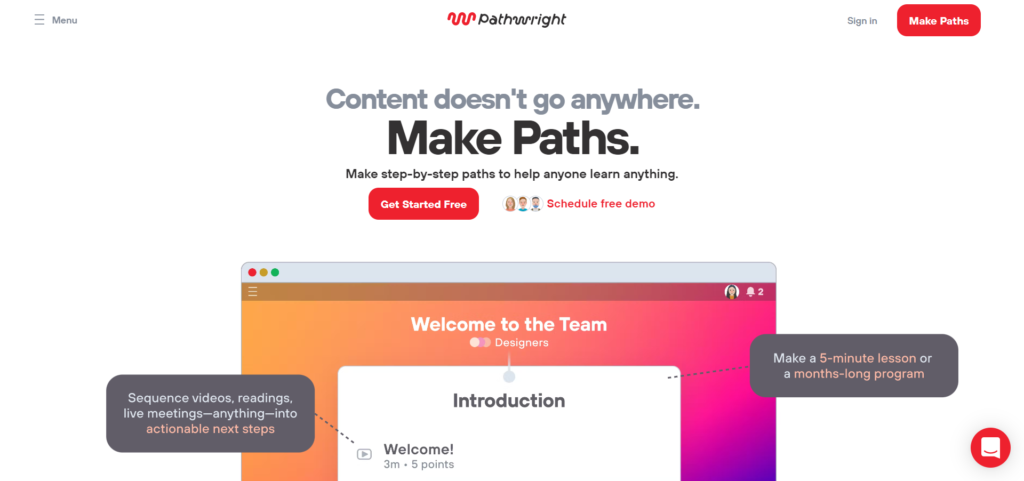 Pathwright is an all-in-one design, learning, and teaching platform that's built for personalization and community. It's core feature, the path, provides your learners with an undistracted learning experience that takes them step-by-step through your teaching content. And the Cohorts feature that allows you to go beyond content and start building unique learning communities online.

It's a shame that not many know this platform.

Features
– An environment designed for focused learning

– Auto reminders and schedules to keep track of students progress

– Wider community to remain at the forefront

– Automated emails and smarter reports

Pricing
– Basic: $99/month

– Pro: $199/month

– Premier: $499/month

– Enterprise: $1,499/month

Pros
✔️ Drag and drop interface reduces the time to create courses

✔️ Open forums, quizzes, and assignments

✔️ Action-driven learning

✔️ Straightforward interface

Cons
❌ New coaches might find it a little expensive

⭐ Our Rating – 4.6/5
A plain and uninvolved eLearning software, easyGenerator should be the first choice for coaches and trainers, let alone companies. The fact that it has a small learning curve, it simplifies the task of creating online courses.

Features
– User-friendly interface with drag and drop tools

– Predefined templates for course designs

– All in one hosting solution

– LMS features with dedicated support

– GDPR compliance

Pricing
– Pro: $99/month

– Team: $495/month

– Enterprise plan available on a custom basis

Pros
✔️ Easy to navigate and track courses

✔️ Learner-specific modules

✔️ Dedicated customer support

Cons
❌ Not super affordable for most

⭐ Our Rating – 4.6/5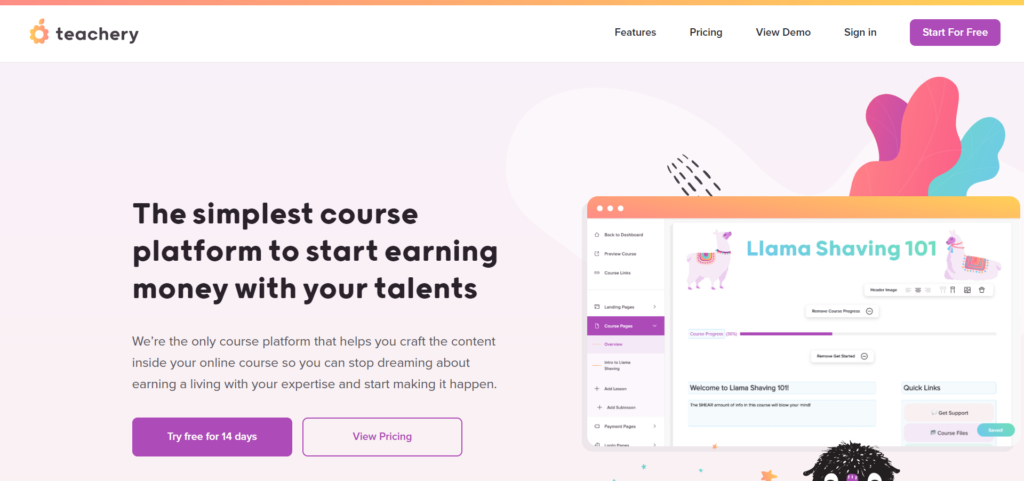 With a simple and non-confusing approach, Teachery makes it easier to create online courses. What's best about the platform is that it allows unlimited courses for a single account.

The founder of the company is a successful coach and it's easier for him to think like a coach and build a platform suited for coaches & instructors.

Features
– Unlimited lessons, courses, and students

– Simple course editor facilitates the creation of beautiful websites

– Embed social media files directly within the platform

– App integration for sales and marketing

Pricing
– One Plan For All: $49/month or $470/year

Pros
✔️ Custom analytics and advanced reporting

✔️ Affiliate programs

✔️ Drip feed content

✔️ No transaction fee

✔️ One plan for all

Cons
❌ No quizzes/assignments

❌ Slow in releasing new updates

⭐ Our Rating – 4.6/5
You want to build and host courses + You also want some features from ClickFunnels to help you sell your courses more aggressively + You want all this at budget

Meet Podia!

Digital downloads, course modules or online memberships, Podia is one platform that accommodates all. Creating courses with Podia does not mandate the knowledge about coding tools or any development expertise.

In fact, the entire portal is no-code, so anyone with the know-how to work on digital tools can pull off the process of course creation.

Our money is on Podia to become the next big thing in the E-learning space

Features
– Create eye-catching courses in a matter of minutes

– Host webinars, digital downloads and other members on the site.

– Embeds automation for marketing and selling

– Templates and designs to build a lucrative, professional-looking website.

Pricing
– Mover: $39/month

– Shaker: $89/month

– Earthquaker: $199/month

Pros
✔️ Top-notch customer support services

✔️ Linking URLs to business websites enables managing products with ease.

✔️ Captivating layouts to enhance the visual appearance of the site.

✔️ Course taking experience for students is charming.

Cons
❌ Basic sales funnel builder

⭐ Our Rating – 4.7/5
When you set out to find an alternative to Teachable, the first name to pop up is Thinkific. It is a hosted online channel that includes a range of tools needed to facilitate the job of course creation.

This online platform is the biggest Teachable competitor and is excellent in terms of site designing and customization. Thinkific's flexibility as a platform and higher value for money, makes it a better choice over Teachable

Features
– Facilitate the creation of compelling courses

– Stronger site building abilities

– Built-in themes to adorn the appearance of the site.

– Drip schedule content

– Course compliance

Pricing
– Free Plan

– Basic: $49/month

– Pro: $99/month

– Premier: $499/month

Pros
✔️ One-click site customization and integration.

✔️ No code environment provides the ease of setup and installation.

✔️ Provides total control over the website

✔️ Onboarding automation simplifies the process of course creation

✔️ Responsive with email support

✔️ 30-day money-back guarantee

Cons
❌ Teachable has a better UI than Thinkific

⭐ Our Rating – 4.6/5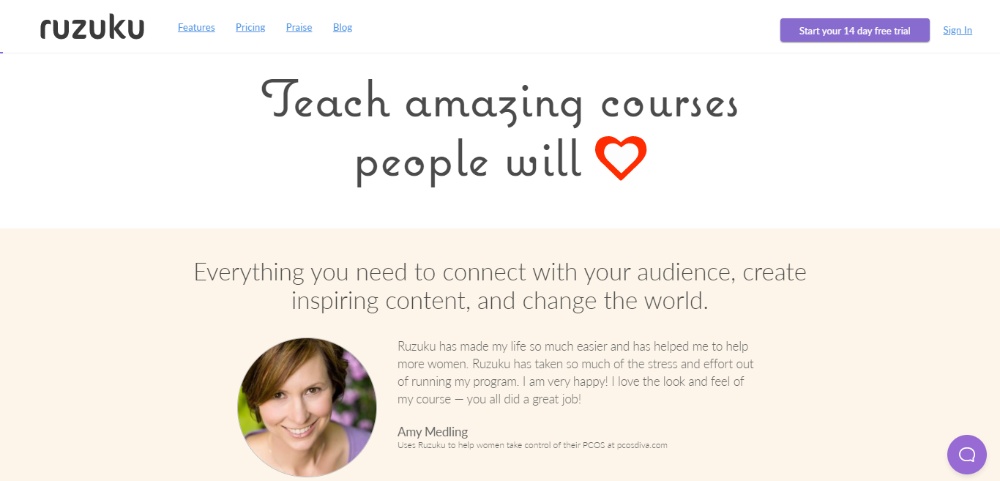 Ruzuku is one of the old players in the E-learning market. They really understand how Coaches think and their product reflects that.

They provide a very friendly course-creating experience to the instructors and have a basic policy of providing unlimited courses, 0% transaction fees and unlimited students in all of their plans.

Features
– User-friendly interface with out of the box designs

– Paces the speed at which courses are created

– Professional-looking designs facilitate the improved appearance

– Dripfeed content for students

– Third-party apps integration

Pricing
– Bootstrapper: $99/month

– Up and Comer: $149/month

– University: $199/month

Pros
✔️ Enough templates to aid customization

✔️ Modular approach for creating complex courses

✔️ Enable live webinar hosting

Cons
❌ The growth of the company has been slower compared to the other biggies.

⭐ Our Rating – 4.4/5
Deemed as ridiculously easy, Miestro.com is an excellent alternative to Teachable. The platform has been continuously upgrading and has a clean interface.

It has a robust set of features that combines everything under a single roof. From email automation to the creation of landing pages, the platform will aid everything you need to design and decorate your online teaching website.

Features
– Extensive email support

– Allows you to sell subscriptions

– Intuitive designs and previously built templates

– Robust content management system

Pricing
– Launch: $99/month

– Premium: $199/month

– Growth: $299/month

Pros
✔️ Let's students comment under course content

✔️ Comes with an in-built recorded so you won't need Loom

✔️ Flexible interface with a customized look

✔️ Ability to split courses into modules

✔️ 35+ integration increases site productivity

Cons
❌ Has some stability issues

❌ Support can be a little slow

⭐ Our Rating – 4.5/5

The best Teachable alternative
The best Teachable alternative doesn't exist. Everybody has their unique expectations and requirements from a course platform. We have decently covered most promising online course creation platforms. If you think we missed something important, let us know in comments and we will add it, if it's a good fit.