The advent of e-commerce has made it essential for businesses to set up online distribution channels and payment methods to cope with constant digital innovation. However, setting up an e-commerce platform can be difficult for entrepreneurs who don't have a technology background.

For new entrepreneurs who are not familiar with e-commerce, SamCart is a great solutions provider. SamCart provides web development; sales support and online payment tools that help businesses expand their online presence. However, lack of features in basic plans and the added expense for additional features can make SamCart a problematic platform for many entrepreneurs. Fortunately, there are many alternatives that new businesses or businesses venturing into the online space can use to expand their operations.

Here are the top 5 alternatives to SamCart:

The Best SamCart alternative:
(We mention the hidden gems on top of our list, to give them more exposure, over the already popular ones)

SnipCart
Whether it's a simple shopping cart or a complete inventory management system, SnipCart provides a wide range of tools for e-commerce. Along with web design and payment features, SnipCart also has features to assist with accounting, tax management, and shipping which can be designed and customized using CSS, Javascript and HTML.

Pros
✔️ HTML-based features make integration easy

✔️ Cart designs are easy to customize through the SnipCart API

✔️ API/Webhooks available for automation and admin functions

✔️ Support and technical assistance provided directly by trained developers through the back end dashboard

Cons
❌ Lack of stock themes and templates

❌ Developer know-how required as platform is heavily code-based

Pricing
– Standard plan: 2%/ transactions* + Payment gateway fees

– Advanced plans have custom pricing

Best known for
SnipCart specializes in catering to the needs of web designers and developers. Since it offers HTML or CSS based features, it is a perfect SamCart alternative for people with a coding background who want the flexibility to customize their sites speedily.

⭐ Our Rating – 4.6/5

Plug&Paid
Known to be a comprehensive SaaS platform, Plug&Paid enables businesses to embed products into existing e-commerce content. As a Distributed Commerce site, Plug&Paid provides features related to digital product distribution, subscription management and data storage/delivery as well.

Pros
✔️ Easy-to-install checkout cart features that support all major payment methods

✔️ Advanced data management features that provide secure storage, digital delivery and license management

✔️ Plugs available to send out automated emails, invoices and messages

✔️ Customised branding can be added easily

Cons
❌ Lack of web development tools

❌ Lack of features to offer a storefront or shop website

Pricing
– Dynamo: A dynamic pricing based on the number of transactions and ticket size

– Lightning plan: Based on the number of monthly transactions (no ticket size)

– Both plans have a 7-day trial period

Best known for
Plug&Paid is best known for its checkout cart features, which can be embedded into any content site. Plug&Paid also excels as a payments solutions provider.

⭐ Our Rating – 4.7/5

Kartra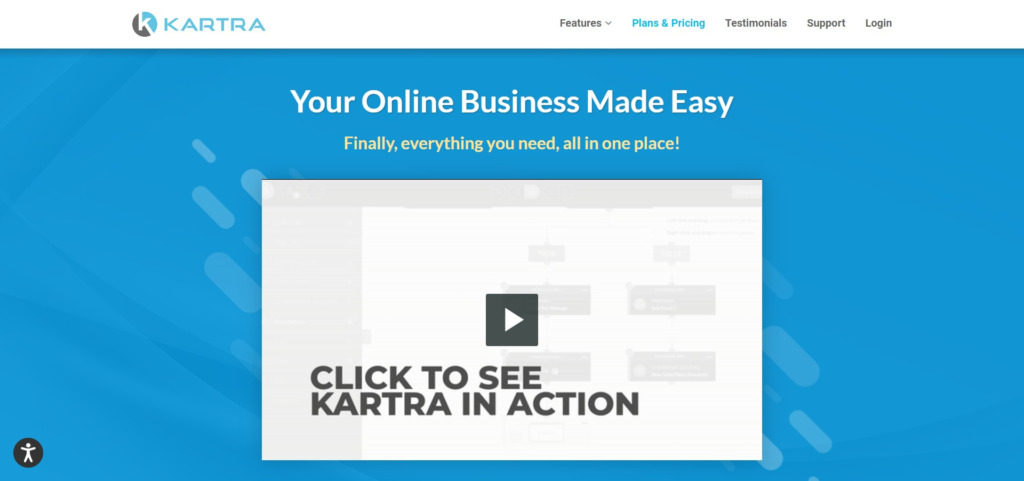 This comprehensive SaaS provider combines Customer, Email, Video and Shopping Cart management into one suite. Being a subsidiary of Genesis Digital, Kartra is also affiliated to web hosting tools WebinarJam and EverWebinar.

Pros
✔️ Easy to use pre-made templates and drag-and-drop interface

✔️ Advanced video hosting and webinar features

✔️ Native and Custom API integrations available for any platform

✔️ Advanced features to manage client accounts through a centralized master console

Cons
❌ Pricing on the higher side compared to peers

❌ Lack of accounting and shipping features

Pricing
– Starter Plan – $99/month

– Silver Plan – $199/month

– Gold Plan – $299/month

– Platinum Plan – $499/month

– Custom pricing for Enterprise level accounts

Best known for
Along with being a one-stop-shop solutions provider, Kartra's affiliation to WebinarJam and EverWebinar makes its video-hosting features superior to its peers. Kartra is a SamCart competitor perfect for businesses that specialize in online coaching or consultancy services.

⭐ Our Rating – 4.4/5

PayKickStart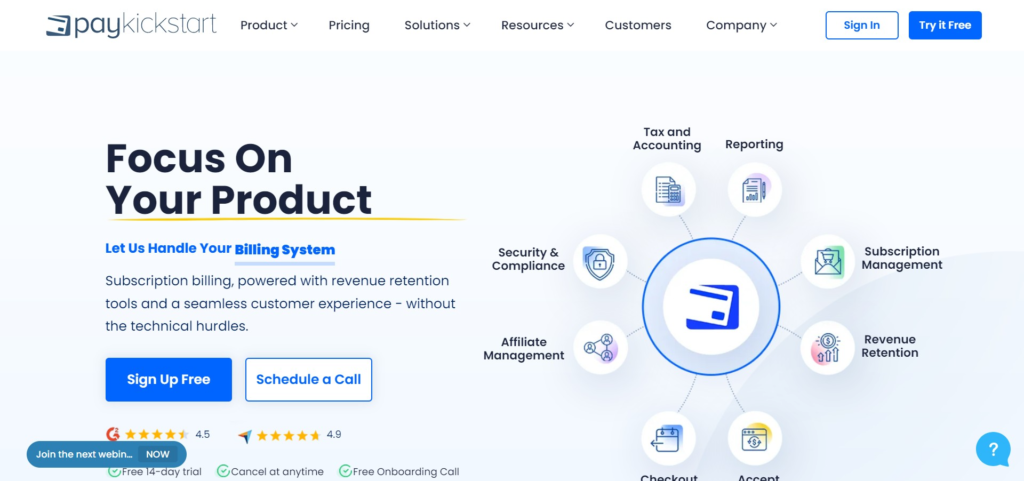 PayKickStart began by providing bare-bones shopping cart features with a simple Stripe or PayPal integration, it now provides subscription management, revenue boosting, affiliate marketing and billing features that enable their customers to upsell their products and recover lost revenue.

Pros
✔️ Versatile payment features that can even accommodate offline cash payments

✔️ Advanced features to manage and track subscriptions

✔️ Industry leading affiliate management features with built in marketing materials and leads/sales tracking tools

✔️ Solutions that can be customised for different product and service categories, e.g. SaaS, digital good, physical goods, memberships etc.

Cons
❌ Interface is not very streamlined or user friendly

❌ Pricing is on the higher side compared to peers

Pricing
– Starter plan – $99/month

– Growth Plan – $199/month

– Scale Plan – $299/month

– Free 14-day trial available for all plans

– Custom plans are also available as per monthly revenue

Best known for
One of the key areas in which PayKickStart excels is its affiliate marketing and subscription management features; hence it is perfect for subscription businesses or online coaching and marketing companies.

⭐ Our Rating – 4.5/5

ThriveCart
With simplicity at its core, ThriveCart aims to make e-commerce easy for new businesses. Along with cart management, ThriveCart also provides tools upselling, click-funnels, affiliate management and CRM.

Pros
✔️ Simple, point-and-click carting features with ready to use, high-converting templates

✔️ Revenue boosting marketing features such as A/B testing and predicted sales

✔️ Retargeting and dunning features to help recover lost revenue

✔️ Features to help businesses with discounted and secure URLs

Cons
❌ Lack of product fulfilment and shipping features

❌ Lack of payment processing options

Pricing
– One-time payment of $495 for lifetime access to standard features

– One-time payment of $195 for lifetime access to professional features with an annual fee based on customizable add-ons. Payment processor fees are excluded.

Best known for
One of the best features of ThriveCart is the simple, ready-to-use carting feature that can be embedded or integrated with ease into any website. This SamCart alternative also offers unique analytics tools like A/B Testing.

⭐ Our Rating – 4.4/5


The best SamCart alternative
Did you like the list? Have we missed something important? Let us know in the comments