Unbounce continues to be the most solid landing page builder out there but it still doesn't fit the requirements of a lot of marketers.

Some prefer landing page opening speed as their main priority and some give more weightage to the variety of template options. This happens due to the difference in use cases.

There are plenty of use cases why marketers use landing page builders – building email lists, selling products, promoting courses, collecting leads etc.

Every platform has its own set of strengths and in this article we have listed some great Unbounce alternatives to try and guide you in the right direction and help you pick the right landing page builder that fits your specific needs.

The Best Unbounce alternative:
(We mention the hidden gems on top of our list, to give them more exposure, over the already popular ones)

Landingi
Landingi is one of the fastest-growing landing page builders in recent times.

Built ideally for non-techies, Landingi offers an easy-to-use drag and drop builder to simplify the building process. They offer a variety of design templates suitable for multiple industries.

Although it does have some issues related to mobile responsiveness, multiple marketers have confirmed that the landing page opening speed from Landingi is pretty impressive.

Features
– 200+ templates to begin your journey of landing page creation.

– A huge repository of images and icons, enabling you to pick the right one.

– One-click duplication of existing landing pages.

– Invite and collaborate with your colleagues.

– A drag and drop editor for quicker results.

Pricing
– Core: $35/month

– Create: $79/month

– Automate: $109/month

– Agency: $129/month

What is it best known for
Landingi is best known for its customer service from its team that is available on request.

⭐ Our Rating – 4.7/5

Swipe Pages
Swipe Pages allows users to build mobile-optimized landing pages with AMP (Accelerated Mobile Page) features, without the use of any coding. Swipe Pages also offers numerous high-converting templates, along with collaboration tools to assign roles to team members and invite them for projects.

Swipe Pages allows its users to add 1-click checkout options to their websites, along with dynamic texts for personalized messaging. Swipe Pages also has many testing and imaging features.

Features
– Handy AMP features for instantaneous loading experience

– Convenient drag-and-drop editor with multi-screen editing tools

– Versatile templates and modules that are proven to have high-conversion rates

– Robust collaboration tools that enable users to invite team members and assign roles

– Unique dynamic testing tools that allow users to target customers based on personalized user experiences

Pricing
– Free trial plan is available

– Startup plan- $39 per month

– Marketer plan- $89 per month

– Agency plan- $199 per month

What is it best known for
Swipe Pages is best known for its AMP features. With Swipe Pages, users can easily create pages that load instantly and have better ad quality scores, which leads to better conversions and lower bounce rates. Swipe Pages allows users to convert standard pages to AMP code. Users can design pages easily with compression algorithms and custom components to ensure design freedom. Swipe Pages' AMP tools create responsive pages that can be loaded with rich media and tailored content.

⭐ Our Rating – 4.7/5

Brizy Cloud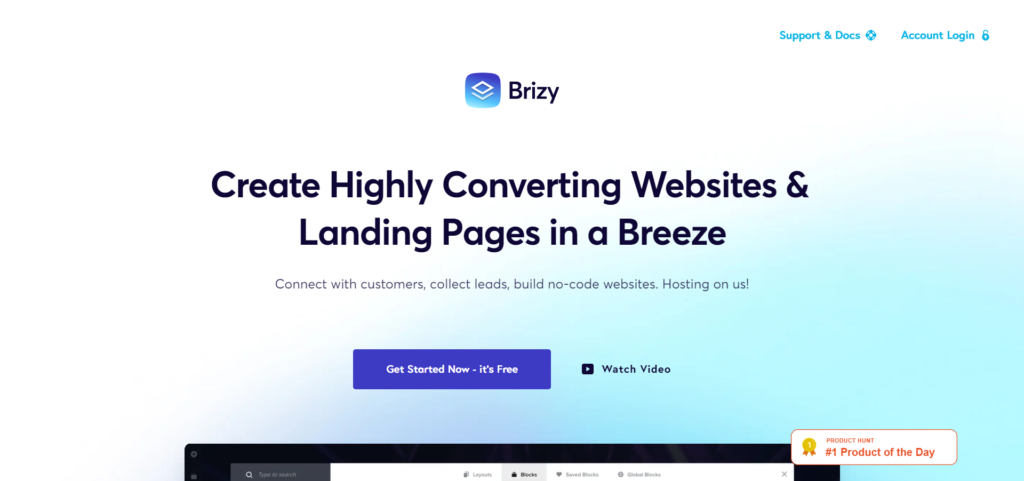 Brizy Cloud is a new cloud-based landing page builder from the guys behind Brizy builder. After the success of WordPress based builder, Brizy's initiative for this SaaS version has been promising.

It's a young platform hence the pricing has been modest.

Features
– 700+ premium blocks and 150+ layouts for optimized conversion.

– Mobile-ready templates and features for better conversion.

– Drag and drop builder for the creation of landing pages.

– Doesn't require coding skills.

– Free plan for one hosted domain

Pricing
– Personal Plan: $9/month

– Business Plan: $99/month

– Agency Plan: $49/month

What is it best known for
It's best known for its pricing as of now but looking at the direction where they are headed, it looks like they are on to build one of the fast opening page builders.

⭐ Our Rating – 4.4/5

AdPage
AdPage allows you to build landing pages in less than five minutes with its easy to implement process. It has a good library of conversion optimized templates. AdPage is one the few landing page builders that gets its mobile responsiveness right. We gave it a try and it was better than most platforms.

AdPage separately focuses on Agencies and has special login, features, white-labelling capabilities to make it easier for agencies to provide services to their clients.

Features
– An easy to use landing page creation tool, it makes online marketing a fun job to do

– It helps you modify, edit, and add elements to an existing landing page.

– AdPage is highly responsive and can work on all devices and platforms.

– The Unique Section Builder enables adding your own sections and customizing the landing page.

– Compelling designs that appeal to visitors boosting conversion rates.

Pricing
– Small: $52.30/month

– Medium: $84.32/month

– Large: $148.37/month

What is it best known for
This alternative to LeadPages is best known for its responsiveness across devices.

⭐ Our Rating – 4.5/5

Leadpages
Leadpages is probably the most straight forward alternative to Unbounce. It not only matches the quality standards set by Unbounce but it's also more affordable in terms of pricing.

LeadPages is primarily known for conversion optimized templates that are designed in a way that demands action from the visitors. It offers flexible web-page building tools for businesses of all sizes. With Leadpages, users can easily build websites, landing pages, pop-up forms and alert bars. Leadpages also offers handy conversion and publishing tools through its web-based platform.

Features
– Versatile options for customizable templates that are known to have high conversion rates

– Easy-to-use drag-and-drop interface with device/social media specific preview features and digital file hosting

– Handy lead generation features, with tools to build lead generation forms, set up notifications and route leads to multiple tools/apps.

– Flexible conversion tools for with features to launch SMS campaigns, email trigger links, alert bars and pop ups

– Robust website building features with drag-and-drop tools, templates and mobile-responsive website builders with SEO-friendly functionality.

– Convenient publishing tools with no limits on new pages and free hosting and domains.

Pricing
– Standard: $49/month

– Pro: $99/month

What is it best known for
Leadpages is best known for its versatile design and template features. Along with pre-set customizable templates, which are mobile-responsive and are proven to have a high conversion rate, Leadpages also offers a built-in icon library and tools to add Shutterstock images. Leadpages also allows users to add widgets for Calendly, Opentable and many video-embedding platforms. With Leadpages' templates, one can also add Keyboard shortcuts, social-share buttons and customized branding to their pages. But we would still say price is the best advantage when moving from Unbounce to Leadpages.

⭐ Our Rating – 4.7/5

InstaPage
A LeadPages alternative that is faster than any platform.

As the name suggests InstaPage boasts the fastest opening speed by a SaaS based landing page builder. It is mostly used by agencies and marketers who run PPC campaigns

InstaPage plays well with many third-party tools of various categories such as Analytics, Email Marketing, CRM, etc. This simple and straightforward landing page creation platform helps you run your campaigns on a pro level.

Features
– Conduct A/B testing with ease and modify the pages based on the output.

– Inbuilt templates designed adhering to the use cases and industrial implementation.

– Customized fonts to display the brand identity, 5000+ to be precise.

– Drop-in pixel tracking to keep an eye on the conversion rates.

Pricing
– Building: $199/month

– Converting: Custom Plan uniquely designed

What is it best known for
Conversion optimized templates + Fast page opening speed

⭐ Our Rating – 4.6/5

Pagewiz
With Pagewiz, you can not just create but also host paid marketing campaigns for your business. The platform is a seasoned one and understands the landing page space.

Their main market is ad buyers. Thus they provide 24/7 monitoring and assistance of landing pages to ensure that everything is running smoothly and at its best.

It needs to revamp its UI and template designs to compete with the other softwares.

Features
– Simple and intuitive drag and drop builders accounting for the creation of high-conversion landing pages.

– Unlimited templates and pixel-perfect designs for page creation.

– Facilitates the integration of tools with third-party marketing applications.

– Perform A/B testing and generate real-time statistics for informed decision-making.

Pricing
– Basic: $29/month

– Standard: $49/month

– Plus: $99/month

– Pro: $199/month

What is it best known for
Extremely high value for money. Pagewiz offers 2 custom domains + integrations + A/B testing on its first plan.

⭐ Our Rating – 4.4/5

Lander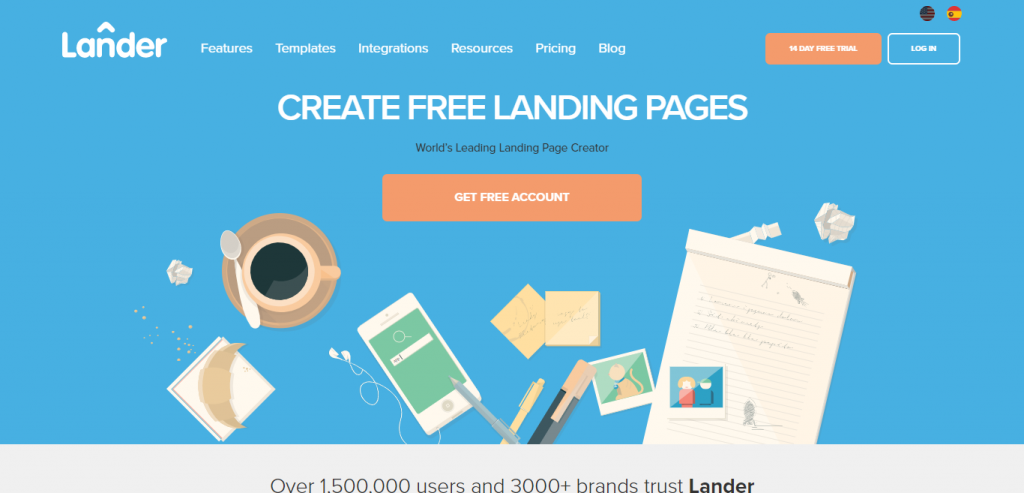 Lander App is a simple drag and drop landing page builder. They provide some great features for an affordable price which is suitable for a lot of small agencies and marketers.

The design on the software could use a fresh look but it offers most features you would need to begin your ad campaign.

Features
– Dynamic Keyword insertion helps map the best keywords and optimize the landing page of the campaign.

– Customized for the mobile version of the page.

– Has built-in analytics that promotes assessment and analysis of campaigns and drives insights for better decisions.

– Integration with email tools to embed automation

– Comes with a 14-day free trial period.

Pricing
– Basic: $49/month

– Professional: $99/month

What is it best known for
High value for money. Lander provides 3 custom domains and A/B testing on its first plan.

⭐ Our Rating – 4.3/5

The best Unbounce alternative
Frankly, there are a few good landing page builders out there. Some of the above companies are extremely good and some are really promising (which need to be supported)

If you think you know some other good landing page builders, let us know about them in comments.