Dear Readers,

Thank you for visiting our website and supporting us. Lately, many of our readers have been asking us to review real-time communication software. Indeed, with the advent of apps like WeChat and Whatsapp, real-time communication has become incredibly easy and convenient. However, there is a dearth of real-time communication platforms that are designed for business users and professionals working in large teams.

This is where Voxer comes into play. Voxer is a real-time push-to-talk platform that is designed to improve communication and boost collaboration. Voxer is designed for industries such as hospitality, transportation, education, retail, field services and logistics. Voxer lets users send/receive instant voice notes, along with text messages, photos, videos, GIFs and location information. Voxer also has a 'Walkie-Talkie' feature, through which users can hear voice messages from other team members in real-time, while they are being recorded. Voxer also allows users to create private networks for their teams, and it has features to manage user permissions and notifications.

Indeed, Voxer is a handy platform for businesses that need to boost real-time collaboration amongst team members. However, frequent platform glitches and user-interface difficulties can make Voxer tedious and inefficient for many users. Luckily, there are many alternatives that you can consider in case Voxer is not suitable for your needs

Here are the top alternatives to Voxer that you should consider for your business.

The Best Voxer Alternatives:
(We mention the hidden gems on top of our list, to give them more exposure, over the already popular ones)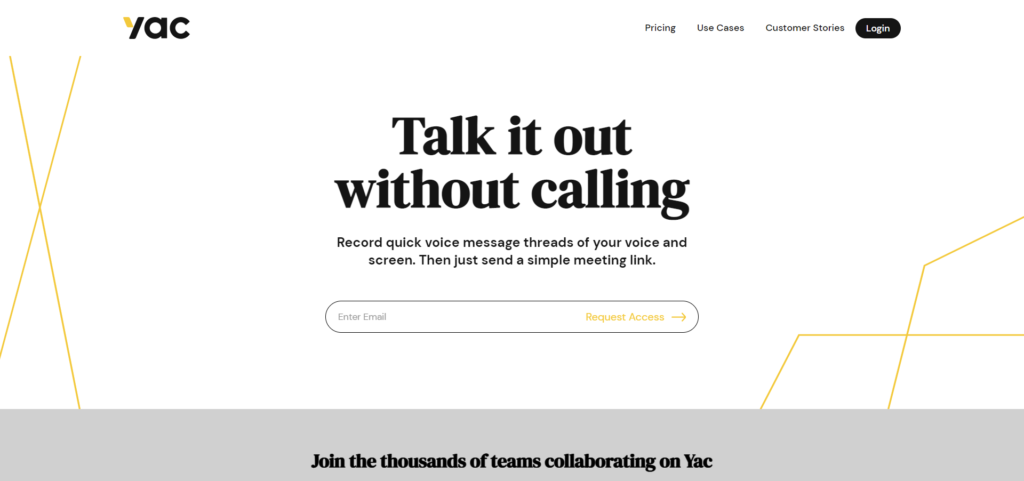 Yac specializes in asynchronous communication, but it has many tools to enable real-time communication as well. Yac also offers features to send group messages with attachments, along with tools for screen sharing and private messages. Yac users can also share links and voice memos easily. Yac is available for Mac, Windows, iOS and Android. Through Yac, users can also adjust the privacy settings of their groups.

Pros
✔️ Advanced voice messaging tools with in-built transcription features

✔️ Handy memo features that allow users to record voice notes

✔️ Easy-to-use link-sharing tools that can be used to send into through external apps

✔️ Versatile screen-sharing features that allow users to record voices and on-screen activity

Cons
❌ Attachment features are limited for the desktop app

❌ Annotation features need to be added to the mobile app

Pricing
– Free personal plan is available

– Team plans: $5 per user per month

Best known for
Yac is best known for its screen-sharing features. With Yac, users can draw over screens and share screen activities with team members through online and offline modes. Screen shares can be sent with one click, and voice messages can also be attached through screen shares. Screen-sharing features are easily accessible through the Yac mobile app as well.

⭐ Our Rating – 4.6/5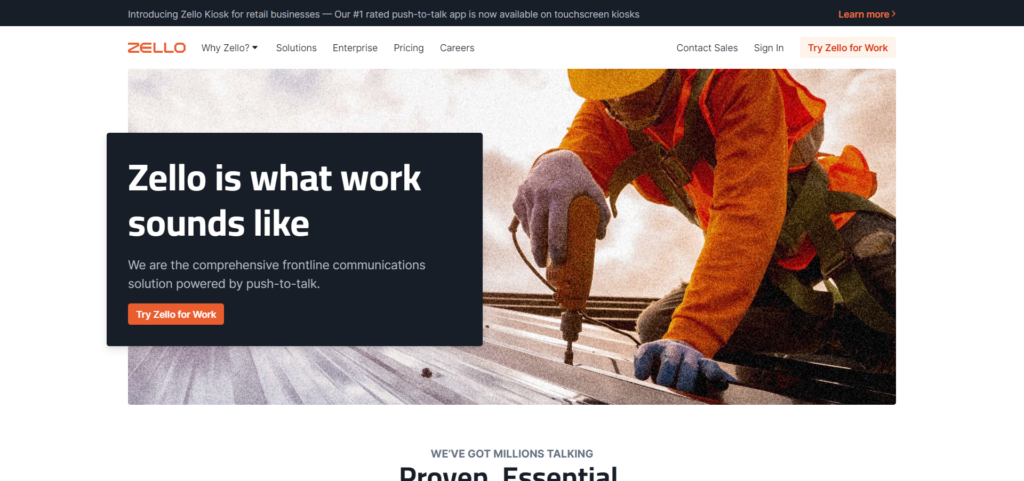 Zello offers a voice-messaging platform with push-to-talk features. Zello also offers tools to send attachments and listen to live voice playbacks. Zello allows users to customize its customers to set up ad-hoc or permanent channels for frequent team communications. Zello offers tools for real-time communication and asynchronous communication. Zello also offers API tools to users who are looking for customized communication solutions.

Pros
✔️ Ample customization options, which allow users to configure settings and channels for up to 10000 users

✔️ Advanced live-location tracking features

✔️ Versatile archiving features that allow users to replay missed messages

✔️ Streamlined console that enables centralized communication management

Cons
❌ Transcription tools are lacking compared to peers

❌ Voice messages tend to lag for iOS 12.4+ devices

Pricing
– Free trial plan is available

– Business plan: $8 per user per month

– Customized pricing plans available for enterprise users

Best known for
Zello is best known for its location-tracking features. With Zello, users can easily track team-member locations through a map-based interface and share instant, live locations between users. Tracking update intervals can also be set, and users also have the flexibility to identify inactive members through a color-coded system. Location tracking tools can also be linked to real-time communication tools, and API functions can also be used to automate tracking. Zello users can also selectively enable or disable location tracking for individual users.

⭐ Our Rating – 4.3/5
NuovoTeam offers secure push-to-talk, messaging and collaboration software for businesses of all sizes. NuovoTeam can be used across multiple devices and networks, and it has location-tracking features. NuovoTeam also has many features that can be used to compile employee information, and it can be used to manage channels for group chats. NuovoTeam users can also send encrypted messages and update their team members on urgent actions with news feeds.

Pros
✔️ Advanced location-tracking tools with clock-in and clock-out functionality for employees

✔️ Versatile corporate directory features with options to seamlessly upload contact details of employees

✔️ Unique newsfeed features that can be used to communicate with employees through rich-text messaging

✔️ Handy admin dashboard, through which attendance and licensing records can be monitored

Cons
❌ Knowledge base and support center needs to be improved

❌ Screen-sharing features need to be improved

Pricing
– Free trial plan is available

– Business plan: $5 per user per month billed annually

Best known for
NuovoTeam is best known for its corporate directory features. Through NuovoTeam, users can consolidate employee information into a unified database and group contacts into teams. Users can also add external contacts into directories and synchronize contacts through smartphones. Users can create rich employee profiles and incorporate location tracking into the database as well. NuovoTeam's directory features are mobile-friendly and there are no complex workflows or processes involved in adding and updating contacts.

⭐ Our Rating – 4.5/5

The best Voxer alternative
Did you like the list? Have we missed something important? Let us know in the comments.